Attention Christians who want to know what God is saying so they can co-labor with Him to fulfill His purposes for the days ahead!
Find Out What God Is Saying To His Prophets About This Next Season & What It Means For You
Discover How To Align Your Life For Maximum Impact In 2018
As we enter 2018, the body of Christ can no longer afford to be vague, ambiguous and leave things to chance.
It is time to take stock of the things spoken to us by the Lord, to roll up our sleeves and partner in cooperation with His plans and purposes.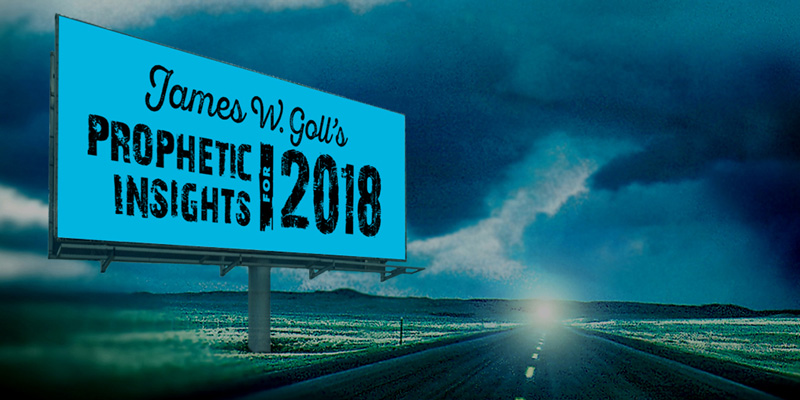 WHAT IS GOD SAYING ABOUT 2018 AND WHAT DOES HE WANT YOU TO DO ABOUT IT?
The good news is that you can enter this year well prepared to partner with God to bring about what He has purposed.
How?
The Lord is already revealing what's on His heart and what He wants us to do about it.
Here are five clear prophetic words I hear the voice of the Lord declaring about this next season:
It Is a Time When God's Purposes Will Accelerate on the Earth.
It Is a Time When Prophetic Language Is Developed to Bridge the Church and Marketplace.
It Is a Time When Kingdom Consultants Shine and Prophetic Solutionists Come Forth.
It Is a Time When Intimacy and Warring Will Converge.
It Is a Time When the Knowledge of the Glory of the Lord Will Be Multiplied.

WHAT PART IS GOD CALLING YOU TO PLAY IN THIS?
We are beginning to enter days of fulfilment and it's essential that we each fulfill our individual calls for the full purposes of God to be manifested on the earth.
I believe the things the Lord has been speaking to me (and other prophets) will serve to confirm and align you for the days that are ahead. TOGETHER, we will accomplish the assignments He has given us and see His glory cover the earth!
If you want to receive spiritual insight, perspective, and instruction that will anchor you in hope, and encourage you to live as a bright light within the darkness of the world around you, then I invite you to join me for...
Discerning the Times and Seasons 2018
What Is God Saying To The Prophets?
God wants you to have maximum clarity to appropriately discern the times so that you can avoid the traps of the enemy and accomplish the FULLNESS of God's purposes for YOUR LIFE.
So, I am assembling some of the most recognized prophetic voices in the earth today to be part of a prophetic forum to answer the question: "What is God saying to you about this coming year or season?"
During January, February and March 2018, I'll be hosting an 8-session Webinar series to give each of these prophets an opportunity to share what they are hearing from God about 2018 and beyond. We will also have a time of Q & A to answer questions you may have about what they share.
This forum includes recognized fathers and mothers in the global prophetic movement as well as next-generation leaders, who will help you clearly discern the times and seasons, receive an increase in the Spirit of revelation in your life, and begin walking in the fullness of what God has for you for such a time as this.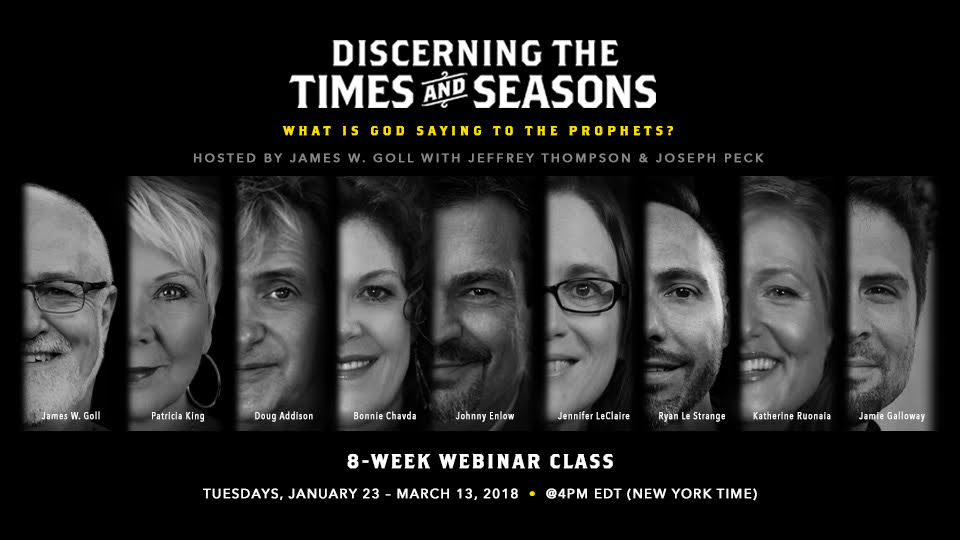 These internationally recognized prophets include:
Session 1: Ryan LeStrange - Tuesday, January 23rdRyan LeStrange is the founder of Ryan LeStrange Ministries and the apostolic leader of TRIBE Network, a global network of ministries. A modern-day revivalist, Ryan moves strongly in the power and fire of God. His conferences & gatherings are alive with powerful preaching, prophetic declaration, miracles and healings. He has authored several books and is the co-founder of AwakeningTV.com. He and his wife, Joy, have one son Joshua and currently reside in Virginia.
Session 2: Doug Addison - Tuesday, January 30thDoug Addison is a prophetic speaker, author and coach. He is known for his Daily Prophetic Words, Spirit Connection webcast, podcast, and blog. Doug's message of love, hope and having fun reaches people around the world! His powerfully, positively funny style of teaching and coaching helps open people to discover their destiny and experience God's supernatural love and power. He and his wife Linda live in Los Angeles, California, where he is impacting the arts and entertainment and media industries.
Session 3: Bonnie Chavda - Tuesday, February 6thBonnie Chavda and her husband Mahesh lead Chavda Ministries International, a worldwide apostolic ministry, which has reached the nations with the gospel accompanied by signs and wonders, and healing from critical diseases. Bonnie and Mahesh have authored many powerful resources for believers. Together, they pastor All Nations Church in Charlotte, NC, and spearhead a global prayer movement, The Watch of the Lord, where they have been leading their congregation in weekly corporate prayer for more than a decade.
Session 4: Katherine Ruonala - Tuesday, February 13thKatherine Ruonala has a prophetic and healing ministry which brings a message of love and hope to the nations. She is the founder of the Australian Prophetic Council, hosts the television show "Glory City TV" and is the author of two books. Katherine and her husband Tom are the founders and Senior Ministers of Glory City Church Brisbane and oversee the International Glory City Church network of churches. She and Tom have three beautiful children, Jessica, Emily and Joseph.
Session 5: Johnny Enlow - Tuesday, February 20thJohnny and his wife Elizabeth are social reformers at heart, international speakers, and authors of numerous books, including The Seven Mountain Prophecy, The Seven Mountain Mantle, Rainbow God, The Seven Mountain Renaissance, Becoming A Superhero, and God in Every Season. As ones focused on the reformation of the 7 primary areas of culture, they are spiritual mentors to many in Media, Arts and Entertainment, Government, Family, Religion, Economy, and Education. Their passion is to awaken our generation to the reality of the God of all of life, Who not only cares for our souls, but also has practical solutions to offer through His sons and daughters for every problem that exists in society. Johnny and Elizabeth have four daughters: Promise, Justice, Grace, and Glory.
Session 6: Jamie Galloway - Tuesday, February 27thJamie Galloway carries a revival message that imparts a lifestyle of the supernatural. After receiving a powerful encounter with God, Jamie immediately began an incredible journey into the supernatural. He has broad ministry experience from planting churches to speaking at stadium events in Brazil. He is a sought-after conference speaker and has authored several books including, Supernatural Revolution. Currently, Jamie is involved in various media projects that highlight the supernatural move of the Holy Spirit.
Session 7: Patricia King - Tuesday, March 6thPatricia King is a respected apostolic and prophetic minister of the gospel, a successful business owner, and an inventive entrepreneur. She is an accomplished itinerant speaker, author, television host, media producer, and ministry network overseer who has given her life fully to Jesus Christ and to His Kingdom's advancement in the earth. She is the founder of XP (Extreme Prophetic) Ministries and co-founder of XPmedia.com.
Session 8: Jennifer LeClaire - Tuesday, March 13thJennifer LeClaire is passionate to see the lost come to Christ and equip believers to understand the will and ways of God. She carries a reforming voice that seeks to turn hearts to the Lord and edify the Body of Christ. Jennifer serves as senior editor at Charisma magazine and she is the director of Awakening House of Prayer in Fort Lauderdale, FL. She has written over a dozen books, and writes one of Charisma's most popular prophetic columns, The Plumb Line. Her testimony of God's power to set the captives free particularly helps women to embrace the love and grace of God.
Today there is a great increase in the operation of the revelatory gifts of the Holy Spirit, and the supernatural ways of God are being restored all over the earth. Not one category of people - including you - will be left out of God's end time visitation of His great love!
I will be your host throughout these 8 weeks.
Blessings to each of you!
James W. Goll

How This Prophetic Forum Works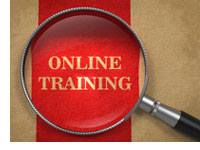 Between January 23 and March 13, 2018, I (Dr. James W. Goll) led this live weekly global prophetic forum.
The purpose of this forum is to empower and equip YOU to know how to partner with God to fulfill His purposes in the coming season.
IT'S NOT TOO LATE TO JOIN
After you join, you will receive IMMEDIATE ACCESS to the private member site with video and audio replays, study guides, PowerPoints, transcripts and relevant bonus resources to reinforce and supplement what you are learning during the regular sessions.
Here are the speakers and topics for the 8 sessions:
Session 1: Mega-Glory and Mega-Canopy with Ryan LeStrange
Session 2: Encountering Heaven with Doug Addison
Session 3: Wrestling for Your Blessing with Bonnie Chavda
Session 4: Fullness and Fulfillment with Katherine Ruonala
Session 5: 2018: A Time of War and Victories with Johnny Enlow
Session 6: What Is the Spirit Speaking? with Jamie Galloway
Session 7: Cyber Evangelism and Discipleship with Patricia King
Session 8: Metamorphosis with Jennifer LeClaire
You will also have access to a private Facebook group to let you interact and build relationships with other like-minded team members globally.
It's great to know you can easily participate in this training from the comfort of your own home, your office, or wherever you happen to be in the world. All you need is a phone, tablet, or computer with a reasonably fast internet connection.
100% Satisfaction Guarantee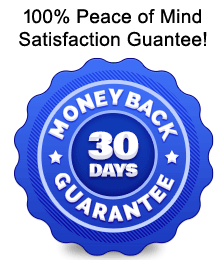 I know this training will give you vital insight into the days in which we are living, so I'm offering a 100% money back guarantee with this training program. So, if for any reason you are not delighted with this course within 30 days of when it starts, we will refund your entire investment.
You have nothing to lose and much to gain. Your success is our success and vice versa!
Summary of What You Get
8-session GLOBAL PROPHETIC FORUM with these renown speakers
Ryan LeStrange
Doug Addison
Bonnie Chavda

Katherine Ruonala
Johnny Enlow
Jamie Galloway

Patricia King
Jennifer LeClaire

After you join, you will receive IMMEDIATE ACCESS to the private member site with video and audio replays, study guides, PowerPoints, transcripts and relevant bonus resources to reinforce and supplement what you are learning during the regular sessions.
Additional Benefits
Access to private Facebook group
30-Day Satisfaction Guarantee
Discerning the Times and Seasons 2018Priority Order Form
YES! I want to have maximum clarity about what God is saying for 2018 so I can partner with Him to see His full purposes manifested on the earth!
IT'S NOT TOO LATE TO JOIN
After you join, you will receive IMMEDIATE ACCESS to the private member site with video and audio replays, study guides, PowerPoints, transcripts and relevant bonus resources to reinforce and supplement what you are learning during the regular sessions.
Special Offer:
The normal price for this powerful GLOBAL PROPHETIC FORUM for all 8 sessions is $800 USD.
If you sign up by 11:45 pm Eastern on March 31, 2018, you will receive this bonus:
Bonus 1: 63% savings off the course ($300 instead of $800)

CLICK the payment option you prefer to join!



All payments are processed using a secure server

Blessings to align with God's purposes for 2018!
James
Dr. James W. Goll Founder, God Encounters Ministries
Biography
James W. Goll is the president of God Encounters Ministries and has traveled around the world sharing the love of Jesus, imparting the power of intercession, prophetic ministry and life in the Spirit. He has recorded numerous classes with corresponding study guides and is the author of more than forty books, including The Seer, The Lost Art of Intercession, The Coming Israel Awakening and The Lifestyle of a Prophet. James is the father of four wonderful children with a growing number of grandchildren, and makes his home in Franklin, TN.